So 24.08.2014
Promi Beachvolleyball
Parktherme Bad Radkersburg
201 Fotos
Zur diesmal ziemlich verregneten Promi Beachvolleyball Charity kamen u.a. Werner Schreyer, Iva Schell, Michael Konsel, Kurt Elsasser, Vera Russwurm, u.v.a.
Do 21.08.2014
Drehabschlussfest
Novomatic Forum
70 Fotos
Im Novomatic Forum präsentierten Norbert Blecha, Nadja Weiss und Barbara Heraut ihre neue ORF Kulturdoku ´state of the art´ - mit dabei u.a. Gottfried Helnwein, Karl Merkatz und Robert Dornhelm.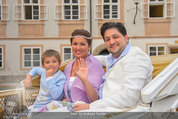 Di 19.08.2014
Netrebko
Verlobung
78 Fotos
Im St. Peters Stiftskeller Restaurant in Salzburg feierte Anna Netrebko Verlobung mit Ihrem Yusif. Mit dabei waren Teile der Familien und einige Freunde.
Komplett&uumlbersicht Promifotos