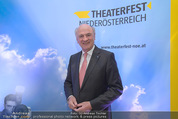 Do 28.05.2015
Noe Theaterfest Präsentation
Novomatic Forum
46 Fotos
Im Novomatic Forum Wien präsentierten 23 Niederösterreichische Festspielhäuser ihr diesjähriges Programm.
Mi 27.05.2015
Austrian Event Hall of Fame
Casino Baden
193 Fotos
Zum ersten mal wurden im Casino Baden die ´Austrian Event Hall of Fame´ Awards vergeben - an Lotte Tobisch, Günther Rhomberg, Helga Rabl-Stadler, Helmut Zilk (posthum) und Andre Heller. Laudatoren waren u.a. Elisabeth Gürtler, Ioan Holender und Karl Stoss. Weiters mit dabei auch Herbert Föttinger, Bettina Glatz-Kremsner und Sophie Polsterer-Kattus.
Sa 23.05.2015
Song Contest Red Carpet
Wiener Stadthalle
96 Fotos
Red Carpet beim Song Contest 2015 - u.a. mit Alfons Haider, Armin Assinger, Ursula Strauss und Kathi Zechner.
Komplett&uumlbersicht Promifotos