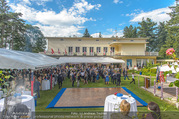 Mi 29.06.2016
4July - Independence Day Party
Residenz der US-Botschaft
21 Fotos
In der feudalen Residenz der US-Botschaft in Wien feierte man wieder den amerikanischen Unabhängigkeitstag. Mit dabei einige Minister, Botschafter und Prominente.
Mi 29.06.2016
Volkshilfe Gala Nacht gegen Armut
Rathaus
44 Fotos
Zur Volkshilfe Gala Nacht gegen Armut kamen u.a. Noch-Präsident Heinz Fischer mit Ehefrau Margit sowie Fast-Präsident Alexander Van der Bellen mit Ehefrau Doris Schmidauer. Desweiteren u.a. Eva Glawischnig, Muna Duzdar, Andrea Buday, Nadja Bernhard, Dolores Schmidinger, u.a.
Di 28.06.2016
Humanic Enjoy Life & Style
The Room
113 Fotos
Zoe, Thomas Borchert, Marika Lichter, Marjan Shaki, u.v.a kamen zur Humanic Preview in The Room.
Komplett&uumlbersicht Promifotos